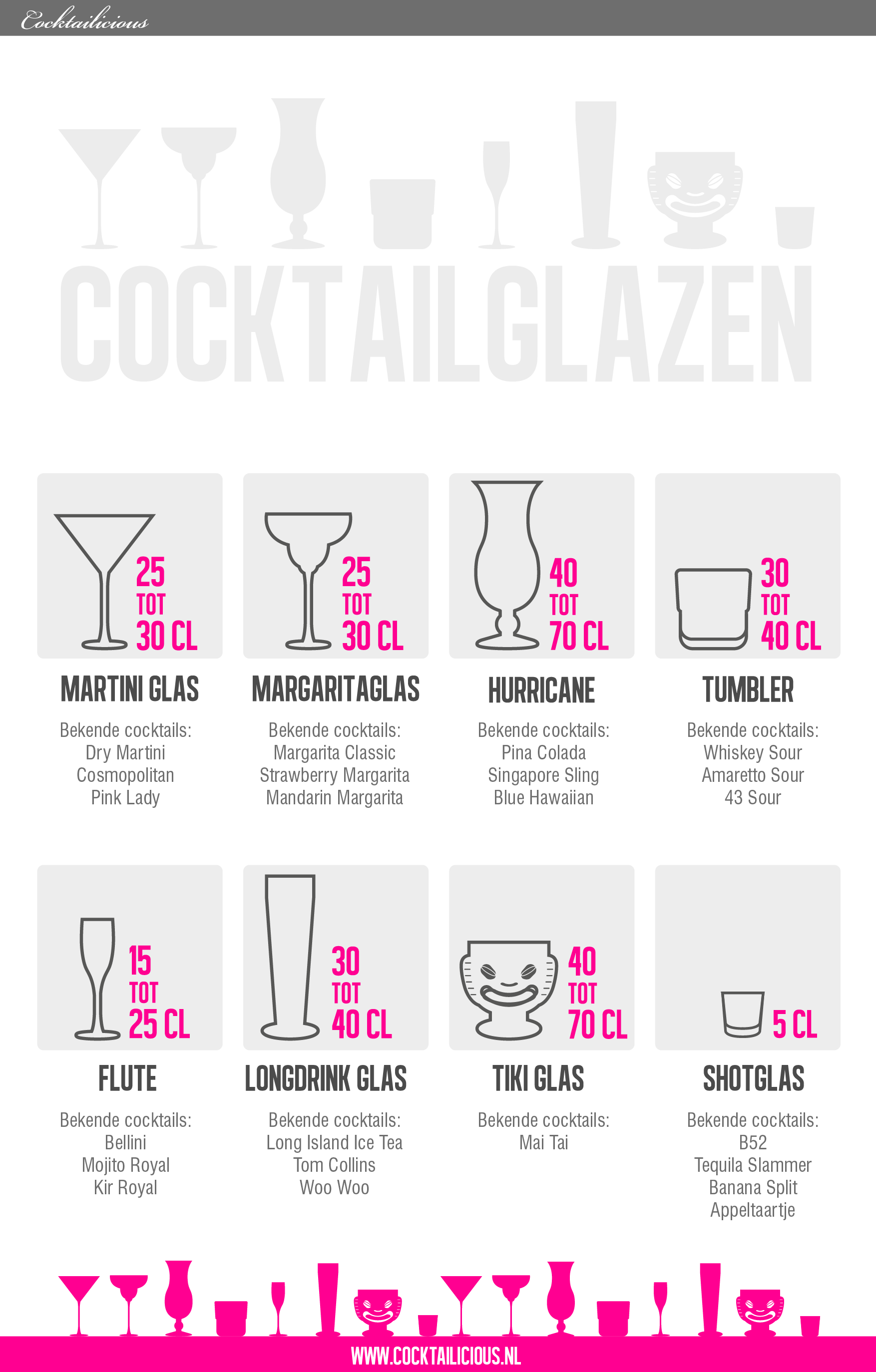 Ben je op zoek naar cocktailglazen?
Een cocktail drink je uit het juiste cocktailglas. Voor onze cocktails gebruiken wij cocktailglazen die verkrijgbaar zijn in onze shop.
Bekijk cocktailglazen in onze shop
Not only the ingredients makes the cocktail. The glass where you serve the cocktail in, is at least as important. But which will you use for which cocktail. The cocktail glass says a lot about what kind of cocktail you are drinking. Is it a bubbly cocktail, how do you prepare the cocktail, with or without ice and does it contain more or a little bit less alcohol? Al these factors we can see only by looking at the cocktail glass. And should be in your mind when choosing a cocktail glass for your cocktail.
We often get a lot of question about the cocktail glasses we use for the cocktails on our website. In this infographic we've displayed the most important glasses for cocktails.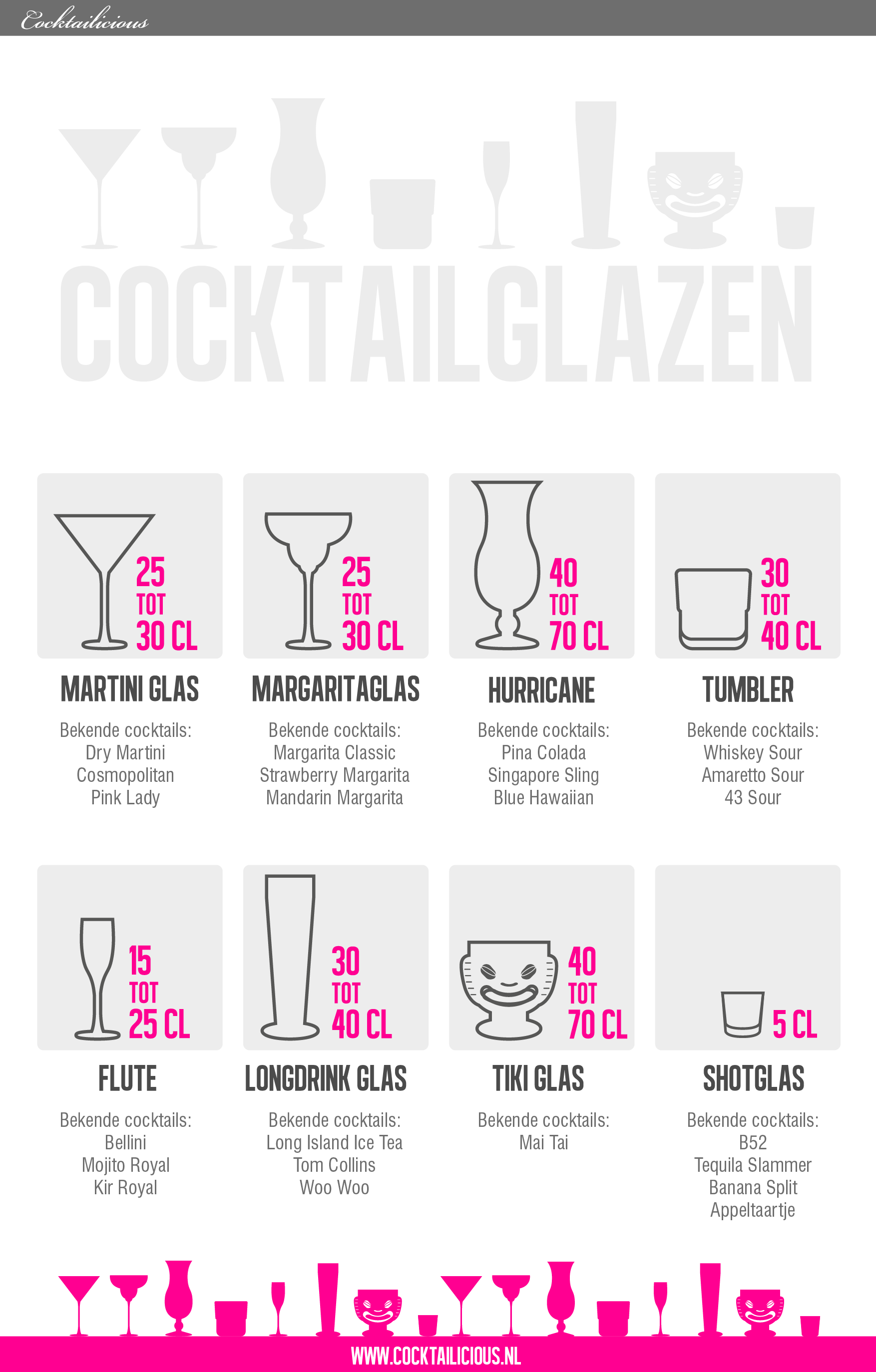 Martini cocktail glass
– Description: By far the most popular cocktail glass is the old fashioned Martini glass. Very elegant glass, because of the shape you can hold the glass at the bottom so yor fingers won't get cold by the cocktail, and your cocktail won't get warm because of your hands. It is a thin shaped glass, usually cocktails in this glass doesn't contain ice cubes.
– Shape: Wide V-shape
– Volume: ca 25-30 cl
– Known cocktails: Dry Martini and the Cosmopolitan
Margarita cocktail glass
– Description: We like to call it the Mexican sister of the Martini glass. Very recognizable by it's "sombrero" shape.
– Shape: Round, flared glass.
– Volume: 25-30 cl
– Known cocktails: Margarita
Hurricane cocktail glass
– Description: The Hurricane glass, or also called a Sling glass is the biggest glass in shape and volume in my collection. A cocktail served in this glasses will keep you busy for a while. Most cocktails served in this glass are sweet and tropical, with a low alcohol percentage.
– Shape: Large and bulging shaped glass.
– Volume: 40 – 70 cl
– Known cocktails: Singapore Sling
Tumbler cocktail glass
– Description: The Tumbler glass is also know als a Whiskey glass. It is a bold and manly shaped glass. It is besides mixed cocktails also perfect for a drink on the rocks.
– Shape: Bold, rectangular glass
– Volume: 30 – 40 cl
– Known cocktails: Whiskey Sour, Amaretto Sour
Flute or champagne glass
– Description: Champagne cocktails (or Prosecco) you mostly drink out of flutes, champagne glasses. Because of the shape of the glass the bubbliness stays in the drink.
– Shape: Slightly flared slim glass
– Volume: 15 – 25 cl
– Known cocktails: Mojito Royal, Kir Royal en de Pornstar Royal.
Longdrink cocktail glass
– Description: The longdrink glass is has a slim waste en is therefore perfect for stirred cocktails. Because of the shape it is perfect for cocktails combined with a soda drink because the bubbles can only go up. The thinner the better.
– Shape: Long, small glass.
– Volume: 30 – 40 cl
– Known cocktails: Long Island Ice Tea, Tom Collins, Tequila Sunrise
Tiki cocktail glass
– Description: Beautiful and exotic glass. You only serve tiki's in this glass!
– Shape: Round and wide glass. Usually with an image on the glass.
– Volume: 40 – 70 cl
– Known cocktails: Mai Tai
Shot glass
– Description: Sometimes we like to call it a mini cocktail. These you drink as a shot. You should be able to drink it in once. This is a small compact glass.
– Shape: Small, short glass
– Volume: ca 5 cl
– Known cocktails: B52, Tequila Slammer, Banana Split, Appeltaartje
Cocktails maken is leuk, maar drink met mate