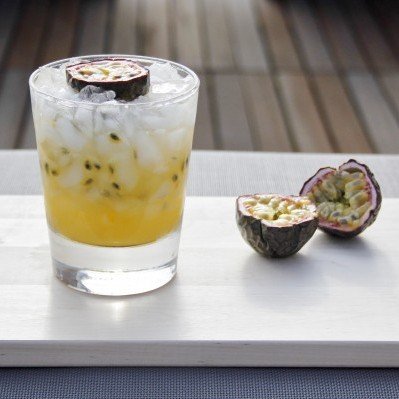 Ben je op zoek naar cocktailglazen?
Een cocktail drink je uit het juiste cocktailglas. Voor onze cocktails gebruiken wij cocktailglazen die verkrijgbaar zijn in onze shop.
Bekijk cocktailglazen in onze shop
The regular Caipirinha and a fresh passion fruit are two of my favorite things. Why not try to combine these two. The result: a Caipirinha Passion. We've not only added the passion fruit, we've also prepared the cocktail a little bit different from it's usual preparation.
What do you need for a Caipirinha Passion?
Cachaca (1,5 part)
Monin passion (1 spoon)
Passion fruit (1 piece)
Lime juice (fresh juice of a quarter lime)
1 part = 30 ml
How do you make a Caipirinha Passion?
This caipirinha we are going to make in a shaker. Also take out your caipirinha glass (or tumbler glass). The reason we use the shaker instead of the muddle is that the passion fruit is not suitable for muddling. In this case for the extra passion fruit flavor we use the monin passion but you can also still use normal cane sugar or sugar syrup. Fill up your shaker with crushed ice. Now add the passion fruit nectar and cachaca in the shaker. Add 2 spoons of monin passion syrup, fresh juice of lime and start shaking. Shake for about 5 to 8 seconds. Pour ut the cocktail without a strainer. Or you won't get the passion fruit nectar in your glass. Fill up the glass with crushed ice, stir it one more time and garnish your Caipirinha Passion with a passion fruit.
Tip
When you garnish you cocktail with a passion fruit, make sure the nectar is already a bit loosened. If you are a sweet tooth add a drop of monin syrup to your garnish.
Share your homemade Caipirinha Passion on social media
Did you try this cocktail based on our recipe, and your proud of it? Take a picture of your cocktail and post it with #Cocktailicious on Facebook, Twitter or Pinterest.

Cocktails maken is leuk, maar drink met mate