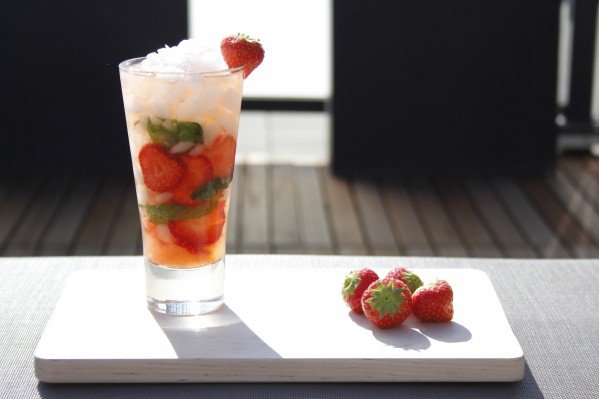 Ben je op zoek naar cocktailglazen?
Een cocktail drink je uit het juiste cocktailglas. Voor onze cocktails gebruiken wij cocktailglazen die verkrijgbaar zijn in onze shop.
Bekijk cocktailglazen in onze shop
A well known variant on the classic Mojito is the Mojito Strawberry. You can actually make a variant on the Mojito with any kind of fresh fruit you like the most. In this case we use strawberries. Not only a pretty color, but the flavors suit the mint and lime very well. Because of it's beautiful red color also a nice cocktail to surprise your valentine with. Strawberries are also the fruit of love…
What do you need for a Mojito Strawberry?
Rum (1,5 parts)
Cane sugar (2 bar spoons)
Limoen (half a lime)
Mint
Sparkling water (1 part)
Strawberries (3 pieces)
1 part = 30 ml
How do you make a Mojito Strawberry?
We will be using a normal Mojito glass for this cocktail. That is an in between glass of a tumbler glass and a long drink glass. The glass has a special bottom for muddling. It is a firm glass so we can't break it. First put in the cane sugar and lime parts. Use a muddler for about 3 or 4 times to muddle the lime and sugar together. Next add the mint leaves and cut strawberries to the glass. Cut the strawberries, but not to small pieces, they will get stuck in your straw. Now add the rum and give it a good stir. Now you see the color of the strawberries go trough the entire glass. Fill up the glass with crushed ice and again give it a good stir. Top of the glass with sparkling water and add a strawberry and mint stick to the glass for garnish. Now it is ready to serve. You can also variate with a slice of lime if you prefer that for garnish.
Try witout alcohol??
Because of the combination of flavor this is an ideal cocktail to try without alcohol. The strawberries, mint and cane sugar with the sparkling water will still give your drink a special taste witout the use of alcohol.
Just keep it with what you know?
Of course you can still just try the classic Mojito or a little bit more elegant the Mojito Royal
Share your homemade Mojito Strawberry on social media
Did you try this cocktail based on our recipe, and your proud of it? Take a picture of your cocktail and post it with #Cocktailicious on Facebook, Twitter or Pinterest.

Cocktails maken is leuk, maar drink met mate