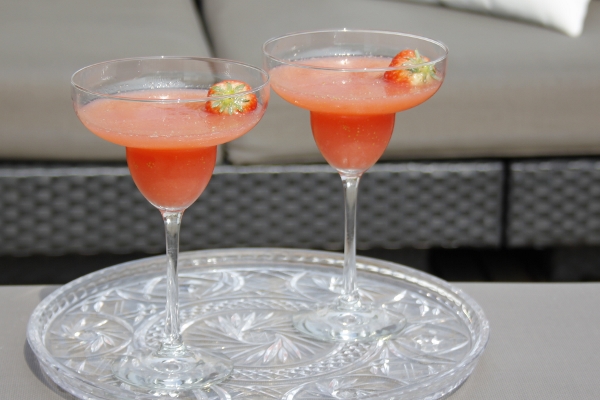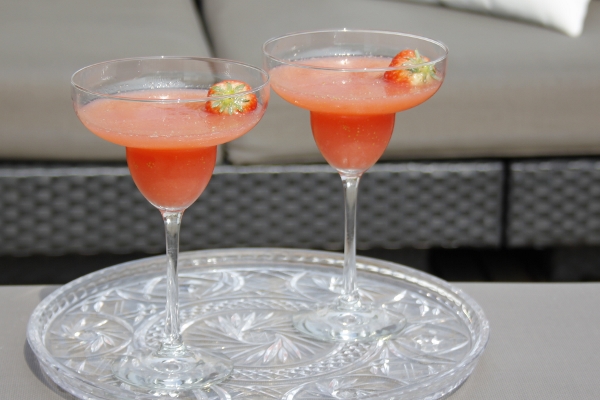 This fruity (and frozen) Strawberry Daiquiri is a perfect veriant on the classic Daiquiri. The ice cold combination of lime and strawberries is invincible. For this granite cocktail we will be using the blender and you will be needing enough crushed ice!
What do you need for a Strawberry Daiquiri?
White rum (1 part)
Sugar syrup (1 spoon)
Lime juice (of half a lime)
Strawberries (5 pieces)
Crushed ice (1 glass)
1 part = 30 ml
How do you make a Strawberry Daiquiri?
We will be needing a margarita glass for this Daiquiri cocktail. If you don't have one, you can also use a martini glass. Also we are going to use the blender so we can make a fresh one, with fresh strawberries. First start with putting the strawberries (without the crown) into the blender. Add the fresh lime juice, rum, sugar syrup and crushed ice to the blender. Just start with a little bit of crushed ice. We don't want our cocktail to be to icy or have too much water in it. That would ruin the flavor. Give it a good blend. Make sure it is all mixed up well. Pour it out into your cocktail glass and garnish it with a fresh strawberry of slice of lime. Now you can serve your homemade fresh strawberry daiquiri!
Other Daiquiri cocktails
Be sure to also try one of our other fresh daiquiri's like the Banana Coco Daiquiri or Kiwi Daiquiri!
Share your homemade Strawberry Daiquiri on social media
Did you try this cocktail based on our recipe, and your proud of it? Take a picture of your cocktail and post it with #Cocktailicious on Facebook, Twitter or Pinterest.

Making cocktails is fun. Always drink responsibly.