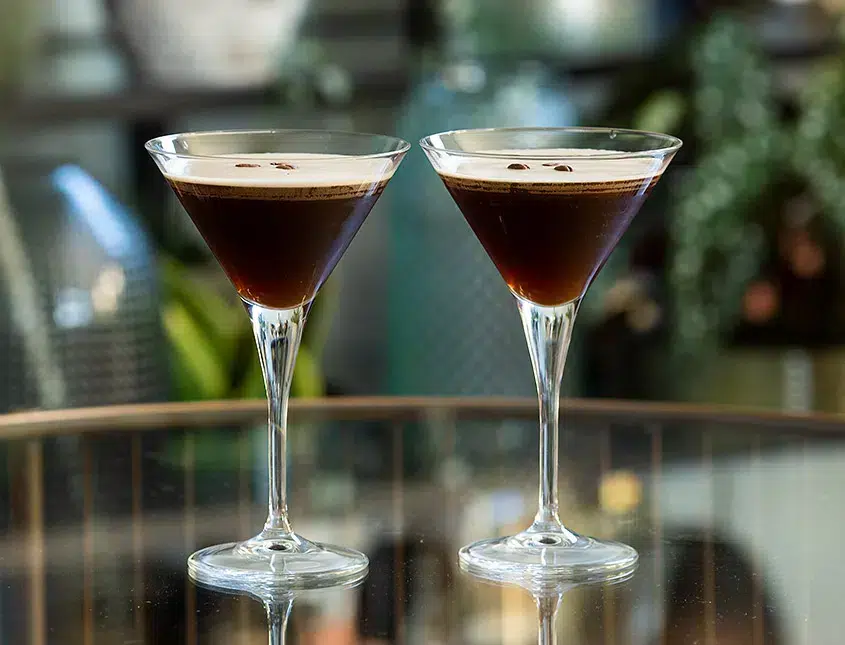 Do you like cocktails and coffee? Than the Espresso Martini just might be your favorite cocktail! So turn on your espresso machine and let's get started! Perfectserve tip: if you shake this Espresso Martini vigorously, you will have a nice layer on top. Use 3 coffee beans to garnish. The birth of the Espresso Martini […]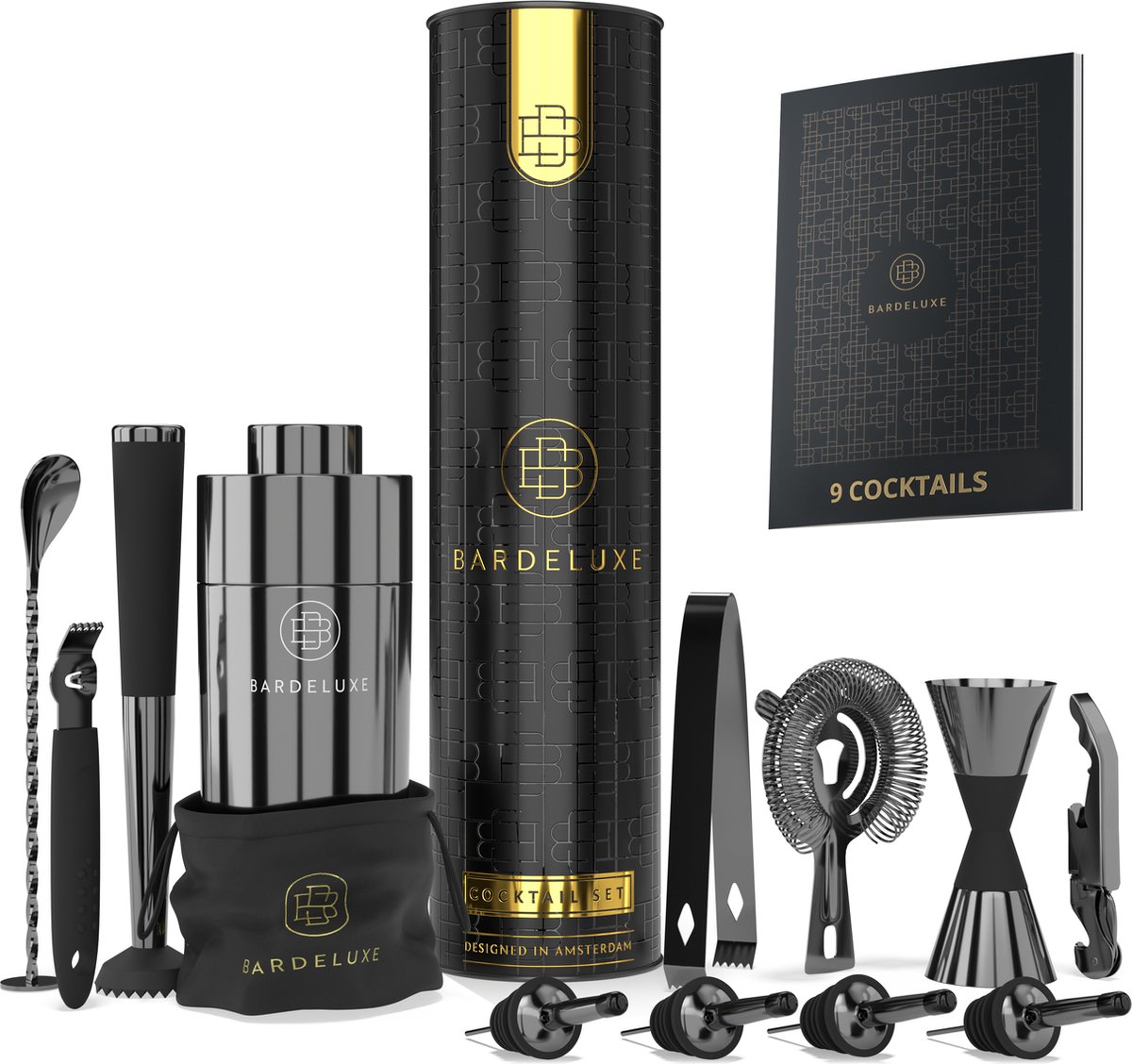 Want to make this ESPRESSO MARTINI yourself?
With this 12-piece cocktail set from BarDeluxe, you get all the necessities to create your perfect cocktail.
Check out the cocktail set!
Ingredients
Vodka

30 ml

Espresso

30 ml

Coffee beans

Optional: cane sugar syrup

5 ml
Recipe
Prepare a fresh espresso. You can use this hot.

Use one part (30 ml) of the espresso and pour in a shake

Add coffee liqueur and vodka. Both 30 ml

Add ice cubes before shaking

Shake vigorously until a frostlayer appears on your shaker. Do this fast and short so your cocktail doesn't get deluted

Pour without the ice in a pre cooled martini glass of coupe

Garnish with 3 coffee beans in the glass

Optional: serve with chocolate beans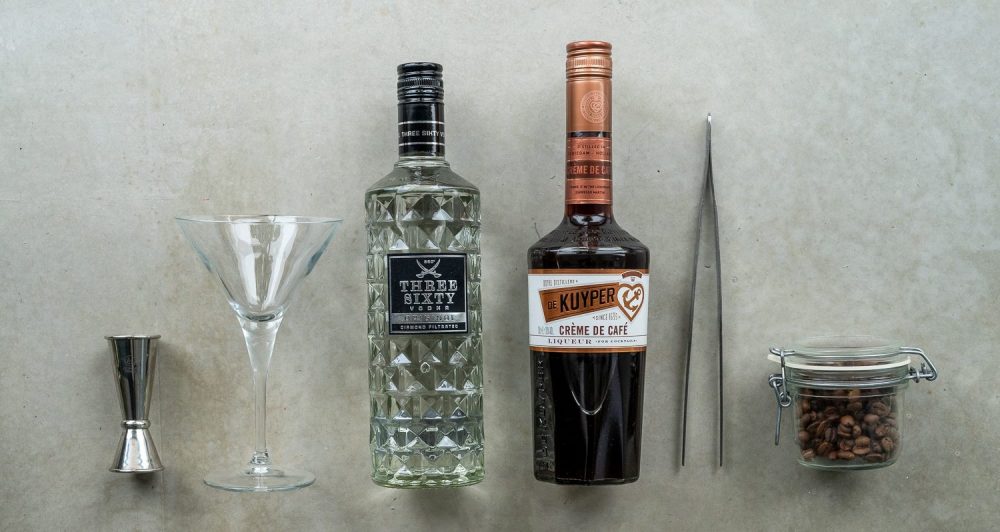 Heb je deze cocktail ook gemaakt?
Deel jouw cocktail op Insta en vermeld @Cocktailicious
Perfectserve tip: if you shake this Espresso Martini vigorously, you will have a nice layer on top. Use 3 coffee beans to garnish.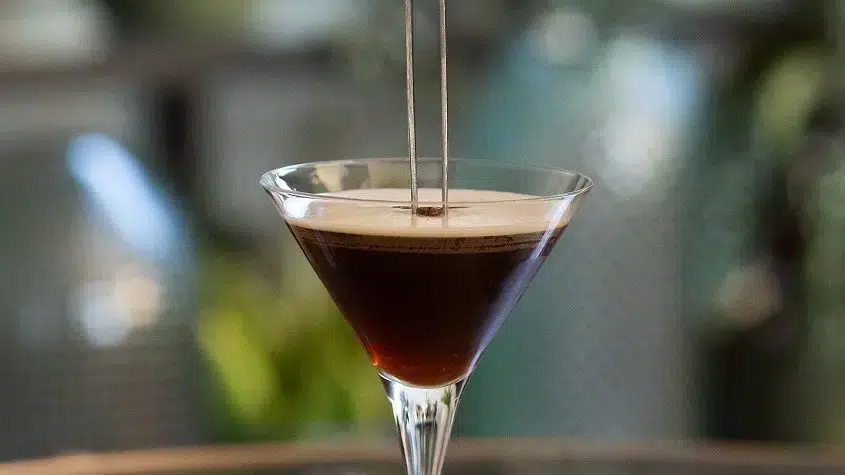 The birth of the Espresso Martini
The Espresso Martini is one of the most famous and popular cocktails of this moment. The cocktail is quite young though as it is from the eighties. When a woman walked into a bar in London and asked for "something that wakes me up and then fucks me up" the bartender answered by making a fresh espresso. He added vodka and added some sweet syrup. A rather easy cocktail for its ingredients, but an absolute winner when you taste it and a boosting kick. And so the Espresso Martini was born!
By the way: the story of the woman that walked in to a bar saying – Something that wakes me up and then fucks me up – happened to be international topmodel Kate Moss.
The fresher the espresso, the better your Espresso Martini
It sounds like a no brainer, but the fresher and hotter your espresso the better your Espresso Martini. Make sure you shake fast and short after pouring in the hot espresso. Because the ice cube will melt faster because of the heath of the espresso. And you don't want your perfectserve to be diluted. So if you want to master this cocktail (yes that is what you want!) than use the best espresso and give it a solid shake like a bartender!
To keep the full and deep taste of this cocktail, give it a fast and vigourous shake!
Why garnish with 3 coffee beans?
If you look at Espresso Martini cocktails you will see they always have 3 coffee beans. And there is a reason for it with a nice story. The garnish with 3 coffee beans has a symbolic meaning. The 3 coffee beans stand for health, richness and good fortune. So next time you cheer with this cocktail, you know what to cheer on.
Coffee liqueur: Crème de Café by De Kuyper
Almost just as important as the quality of the espresso is the choice for the coffee liqueur. For this Espresso Martini we used Crème de Café of De Kuyper. A dark brown liqueur with a rich coffee taste, creamy vanilla and delicate bitter hints of chocotale.

Variations: coffee cocktails
It is easy to make vairations on this classic coffee cocktail. Make a spanish variation with Licor 43 of an italian by adding Amaretto or Frangelico.
Is an Espresso Martini a martini?
The answer is no! De classic martini is made with gin and vermouth (and garnish of olive). Quite a big difference in taste and ingredients. The reason there is martini in the name, probably is that the cocktail is served in a martini glass.
Do you prefer an alcoholfree Espresso Martini?
Do you want to make this cocktail alcoholfree? By using Lyre's Coffee in stead of coffee liqueur, you can make a Virgin Espresso Martini with a similar coffee taste and experience.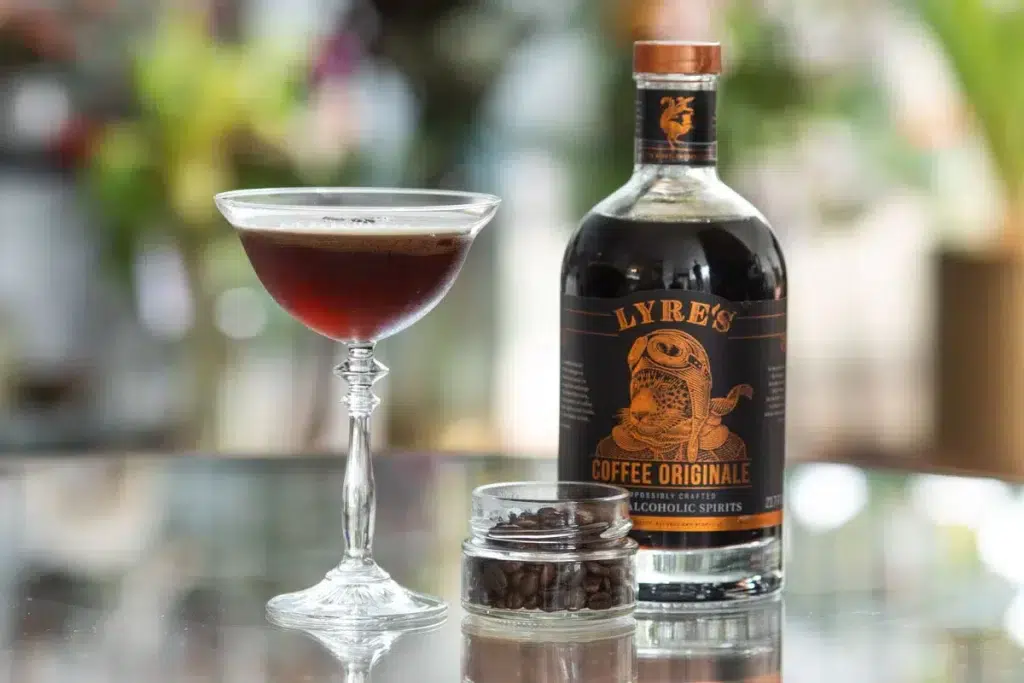 Making cocktails is fun. Always drink responsibly.