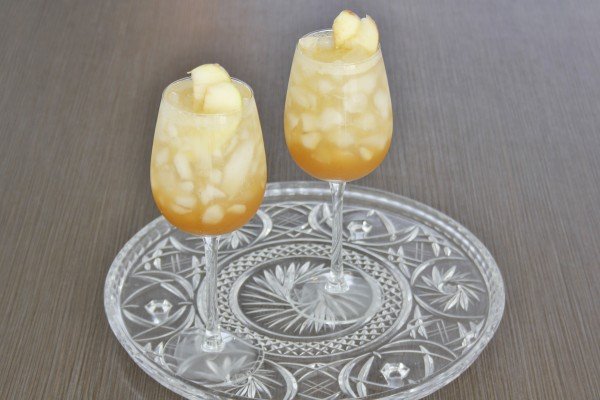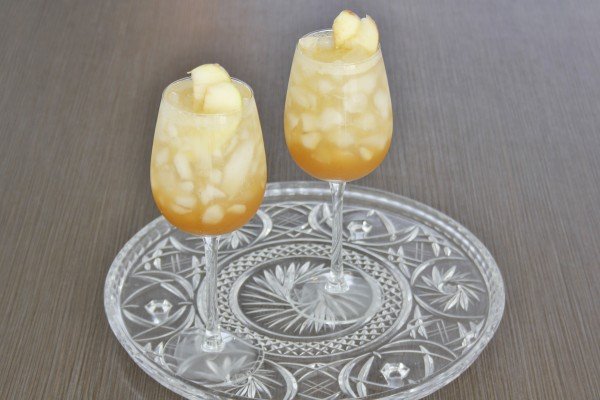 Als je geen alcohol mag drinken en je hebt een gezellig borrelavondje is het lekker om ook mee te borrelen in plaats van een (saai) glaasje spa rood of sapje te drinken. Een makkelijke, maar lekkere variant op je saaie spaatje rood is een Apple Spritzer. Deze is lekker zoet door de verse appelsap die je gebruik en met het zure van limoen een frisse cocktail.
Wat heb je nodig voor de Apple Spritzer?
Verse appelsap (2,5 delen)
Bruiswater (1 deel)
Limoen (sap van halve limoen)
Crushed ice
1 deel = 30 ml
Hoe maak je de Apple Spritzer?
Gebruik een wijnglas en vul deze tot aan de rand met crushed ice. Hierna voeg je de verse appelsap als eerste toe en daarna de geperste limoensap. Dit roer je even goed door elkaar met een barlepel. Voeg hierna tot aan de rand het bruiswater toe. Een klein beetje roeren met je barlepel weer. De Apple Spritzer garneer je kleine stukjes appel.
Ik heb voor dit recept zoete appels gebruikt. Omdat het verse sap is krijgt het iets sneller een bruinere kleur. Als je meer van zure appels houdt kan je die natuurlijk ook gebruiken voor de Apple Spritzer.
Meer alcoholvrije cocktails
In deze blog vind je al onze alcoholvrije cocktails zoals de Berrytini Virgin, de Virgin Colada, de Lychee Martini en de Mojito Granate.
Wil je de Apple Spritzer ook zelf een keertje maken?
De volgende cocktailbenodigdheden komen dan goed van pas:
Deel je zelfgemaakte Apple Spritzer via social media
Heb je deze cocktail gemaakt op basis van ons recept en is het goed gelukt? Maak dan een foto van je zelfgemaakte cocktail en post deze met #Cocktailicious op Facebook, Twitter of Pinterest.

Deze cocktail is 100% alcoholvrij