Ben je op zoek naar cocktailglazen?
Een cocktail drink je uit het juiste cocktailglas. Voor onze cocktails gebruiken wij cocktailglazen die verkrijgbaar zijn in onze shop.
Bekijk cocktailglazen in onze shop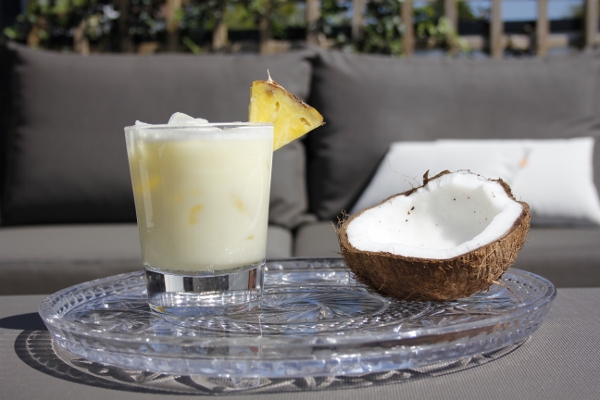 The Batida is typical Brazilian cocktail. The cocktail is a kind of milkshake with coconut and Brazilian rum: Cachaca. A batida is also very nice to mix all fruity flavors into the cocktail. For example, pineapple or mango is always an delicious fruit used in many exotic cocktails.
What do you need for a Batida de Coco?
Cachaca (1 part)
Kokosmelk (1 part)
Special add: fresh pineapple or fresh mango
1 part = 30 ml
How do you make a Batida de Coco?
When making a batida with fresh fruits like a pineapple or mango, we will be needing a blender. Take the blender and add about 4 pieces of fresh fruit. Then add 1 part of cachaca and 1 part of (creamy) coconut milk. Don't use to much coconut milk because it's makes your batida too creamy. Before we start blending put in a hand full of crushed ice. Now mix it up to a smooth drink. Pour out the cocktail in your special batida or else you can use a tumbler glass (with ice). Garnish the cocktail with a beautiful cut out piece of fruit we used in the cocktail. Now you can serve it!
Share your homemade Batida de Coco on social media
Did you try this cocktail based on our recipe, and your proud of it? Take a picture of your cocktail and post it with #Cocktailicious on Facebook, Twitter or Pinterest.

Cocktails maken is leuk, maar drink met mate