Ben je op zoek naar cocktailglazen?
Een cocktail drink je uit het juiste cocktailglas. Voor onze cocktails gebruiken wij cocktailglazen die verkrijgbaar zijn in onze shop.
Bekijk cocktailglazen in onze shop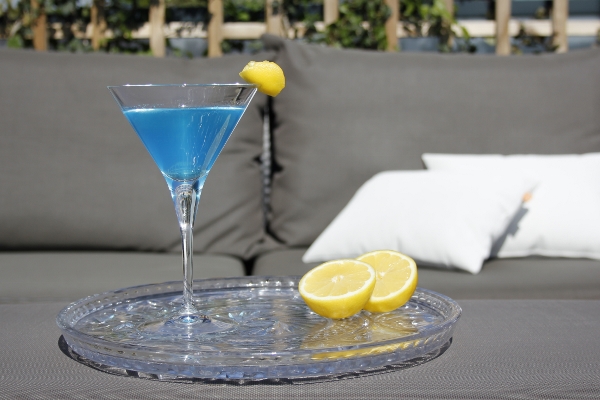 The Blue Cosmo is the little brother of the traditional Cosmopolitan. The blue curacao is because of it's taste of orange not so different from triple sec we use in the Cosmopolitan. For this cocktail we use white cranberry juice, vodka, blue curacao and fresh lemon juice. I think the cocktail looks a little bit disco. Therefore the ideal cocktail for a friday or saturday night.
What do you need for a Blue Cosmo?
Vodka (1 part)
Blue curacao (1 part)
Lemon juice (fresh juice of half a lemon)
White cranberry juice (2 parts)
1 part = 30 ml
How do you make a Blue Cosmo?
Use a chilled martini glass. You can chill the glass before you start with the cocktail by putting some ice in the glass that we are going to use. Now we start with the cocktail. We will be using a shaker. First fill up the shaker with ice. Add the vodka, blue curacao, fresh lemon juice and white cranberry juice to the shaker. Give it a good shake for about 5 to 8 seconds. Take out the ice of the chilled glass and now pour out the cocktail into the glass. Use a lemon zest for garnish from the lemon we've used for the fresh juice. You can do this easily with a bar knife. Cit the lemon zest and put it onto the glass.
Share your homemade Blue Cosmo on social media
Did you try this cocktail based on our recipe, and your proud of it? Take a picture of your cocktail and post it with #Cocktailicious on Facebook, Twitter or Pinterest.

Cocktails maken is leuk, maar drink met mate