Ben je op zoek naar cocktailglazen?
Een cocktail drink je uit het juiste cocktailglas. Voor onze cocktails gebruiken wij cocktailglazen die verkrijgbaar zijn in onze shop.
Bekijk cocktailglazen in onze shop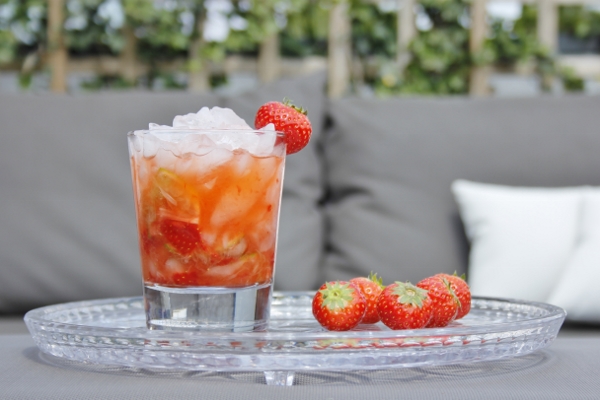 One of the variations on the Caipirinha is the Caipirinha Fresa. For short Fresinha. The strawberries we add to this recipe give the cocktail a beautiful color. It makes the taste also a little bit smoother.
What do you need for a Caipirinha Fresa?
Cachaca (1,5 part)
Sugar cane or sugar syrup (2 spoons)
Lime (2 lime parts)
Fresh strawberries (4)
1 part = 30 ml
How do you make a Caipirinha Fresa?
For this cocktail we are going to use a Caipirinha glass. It's a kind of tumbler glass. We are going to prepare the cocktail straight into the glass. First add the lime parts and sugar in the glass. Then muddle. Only for about three of four strokes. We don't want to completely smash all taste out of the limes. It gets to bitter if you muddle too long. Then add the cachaca and sliced strawberries. You don't have to muddle again. Stirring the cocktail with the strawberries also gives the flavor of the strawberries into the cocktail. Now fill up the glass with crushed ice. Give it a small stir again and garnish your Caipirinha Fresa with a strawberry and or lime part on top.
Tip: add 2 or 3 basil leaves to the cocktail for a new variation. Basil and strawberries go good together.
Share your homemade Caipirinha Fresa on social media
Did you try this cocktail based on our recipe, and your proud of it? Take a picture of your cocktail and post it with #Cocktailicious on Facebook, Twitter or Pinterest.

Cocktails maken is leuk, maar drink met mate