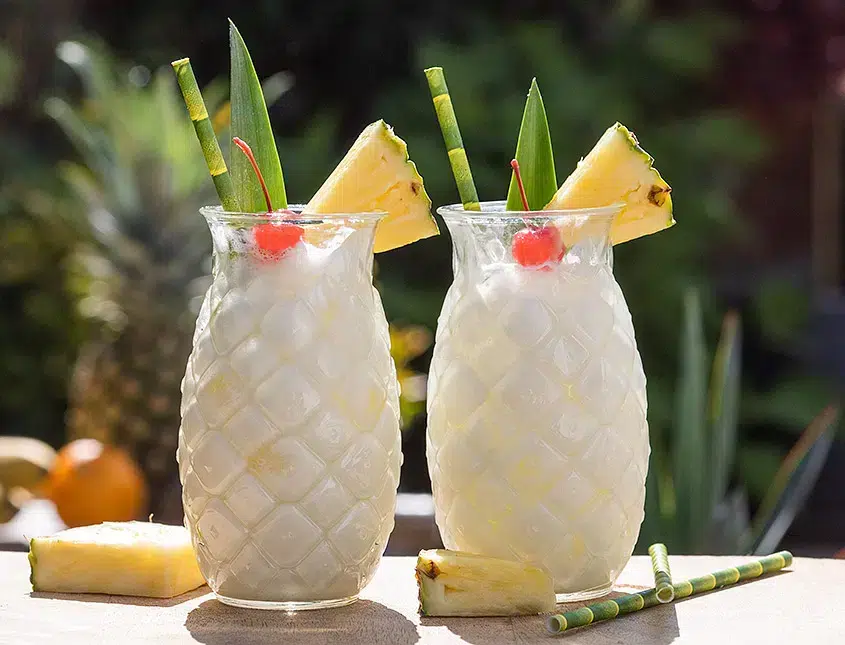 Want to make this Pina Colada yourself?
With this 12-piece cocktail set from BarDeluxe, you get all the necessities to create your perfect cocktail.  
Check out the cocktail set!

The Pina Colada is a tropical cocktail made with white rum, pineapple juice and coconut milk. Delicious cocktail with a tropical experience!
Ingredients
White rum

45 ml

Creamy coconut milk

30 ml

Pineapple juice

90 ml

Pineapple chunk

1 stuk

Cherry

1 stuk
Recipe
Add 90 ml pineapple juice, 30 ml coconut milk and 45 ml white rum in the shaker.

Shake vigorously with ice

Pretaste with a straw and make adjustments if you want to perfection the taste

Pour into a tropical glass. You can also pour the ice cubes.

Garnish with fresh pineapple juice and a cherry.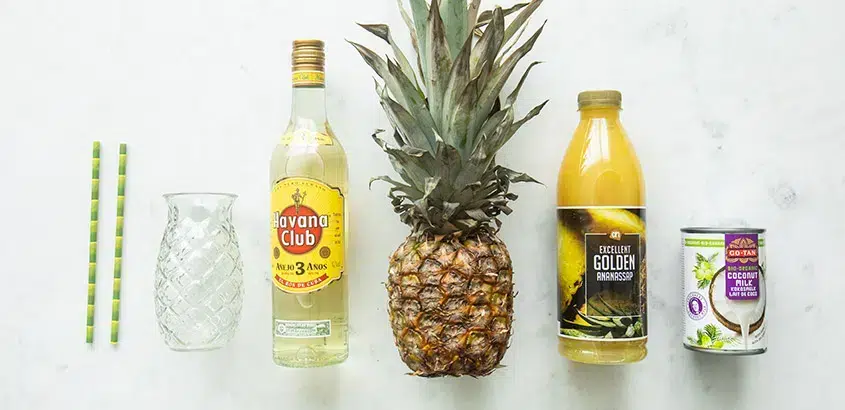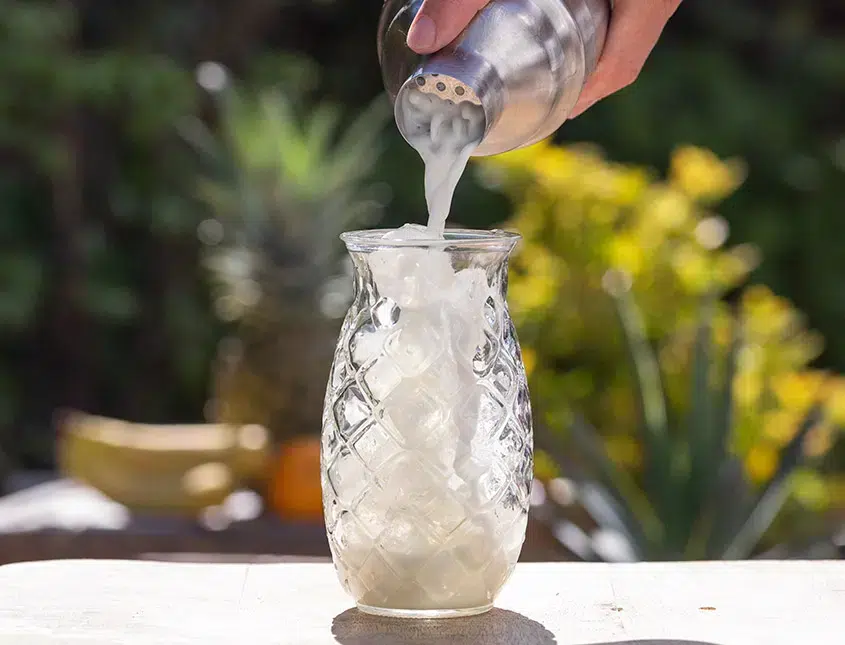 Serve your cocktail in a tropical glass like a hurricane glass or a pineapple tiki glass
Pina Colada: sieved pineapple
The Pina Colada is an exotic drink that gives you a tropical feeling. It literally means: sieved pineapple. The Pina Colada is the national drink of the beautiful island of Puerto Rico where there is an abundance of coconuts and pineapples and rum. If you serve this cocktail to your guests, you have to do this Puerto Rican style, with a big smile from ear to ear!
Garnish the glass with a piece of fresh pineapple and perhaps a cherry on top if you are a sweet tooth. Can you already see the white sandy beach in front of you when you close your eyes?
Rum or Malibu?
The Pina Colada is officially made with white rum, pineapple juice and coconut milk. A lot of people use Malibu coconut rum. But since you also use coconut milk I think this is too much to combine. But if you are a huge Malibu fan then who I am I 😉
Do you like your Pina Colada creamy? Use a creamy coconut milk or add liquid cream whipped cream before you start shaking.
Ultimate tropical experience
When on vacation there is nothing better than a Pina Colada served in a pineaple or a young coconut. For the ultimate experience hollow a fresh pineapple and fill the pineapple with the Pina Colada. Enjoy!
A pineapple a day, keeps the doctor away.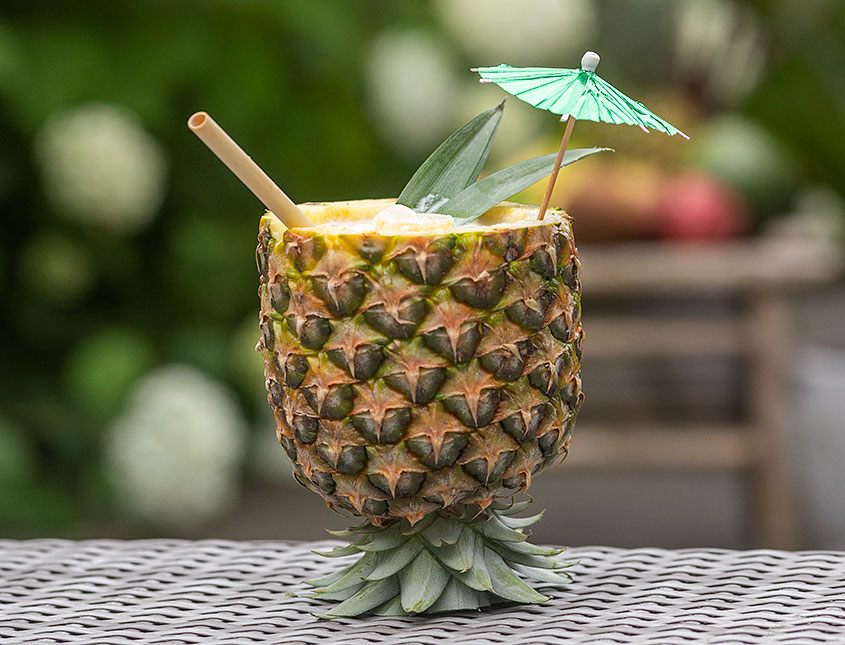 Note: if you like fresh pineapple juice than blend the fresh pineapple. Keep in mind that the structure is different than pineapple juice you buy at the supermarket.
Other pineapple cocktails
Nothing more tropical than a cocktail with pineapple. We made a lot of pineapple cocktails such as Blue Hawaiian (the blue brother of the Pina Colada with blue curacao), Jungle Bird, Rum Swizzle and the Pineapple Rum Punch.
Non alcoholic version: Nada Colada
The Pina Colada is easy to make alcoholfree. You can the Virgin Colada or Nada Colada with an alcoholfree rum, or just without the rum.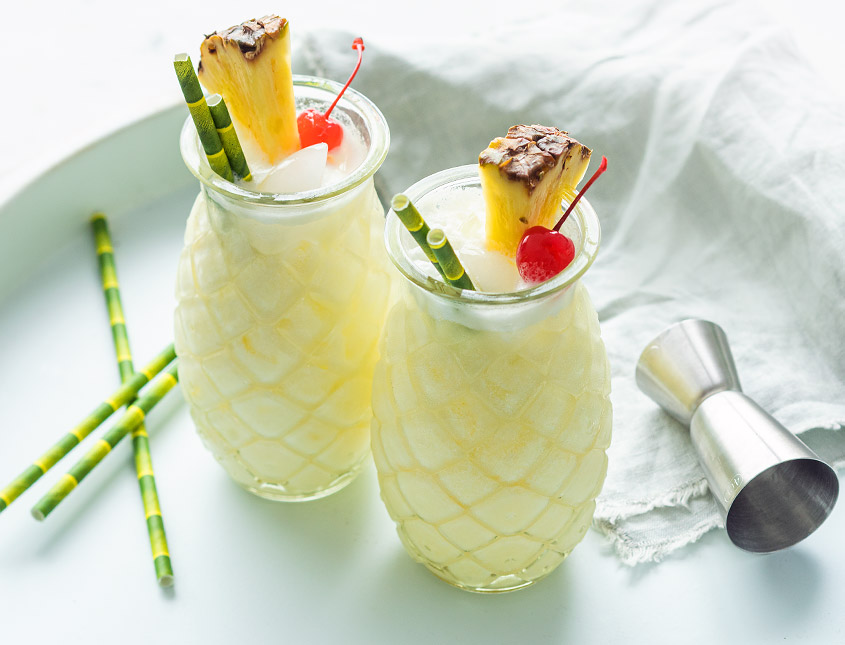 Making cocktails is fun. Always drink responsibly.
Maximize your cocktail with the right glassware
Did you know that choosing the right cocktail glass is important? There a glass for every cocktail!
Visit our shop