Ben je op zoek naar cocktailglazen?
Een cocktail drink je uit het juiste cocktailglas. Voor onze cocktails gebruiken wij cocktailglazen die verkrijgbaar zijn in onze shop.
Bekijk cocktailglazen in onze shop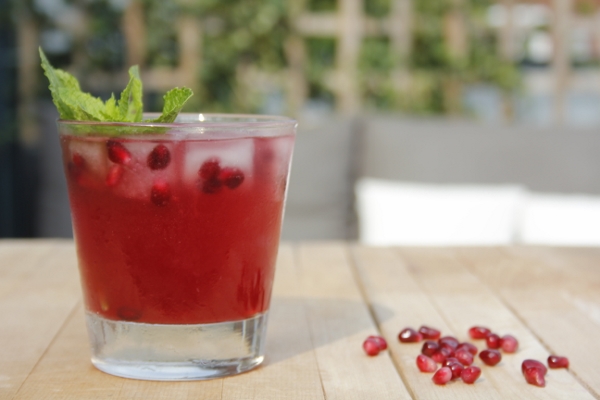 Cocktail without alcohol don't have to be boring. The Mojito Granate is a good example of such a cocktail. Besides it's non alcoholic it has lots of vitamines, anti-oxidants and no extra sugars. The mint is a perfect fit for the pomegranate juice and limes. A perfect and healthy way to start the day!
What do you need for a Mojito Granate?
Pomegranate juice (3 parts)
Fresh lime juice (juice of hald a lime)
Mint
Sparkling water (1 part)
Fresh pomegranate seeds
1 part = 30 ml
How do you make a Mojito Granate?
We make this cocktail similar as to a regular mojito. Use a firm glass what you can you for muddling. Put 4 lime parts into the glass, muddle these. Fill up the glass with some crushed ice. Now add the pomegranate juice and some leaves of fresh mint. Top it of with sparkling water and give it a small stir. Finish up the glass with more crushed ice and add a stick of mint leaves to the glass for garnish.
PS: If you want, it is easy to turn this cocktail into a actual Mojito Granate with rum. Then add 1 part of rum after you've put the crushed ice into the glass.
Ice cubes with pomegranate seeds
For a special effect you can also make you're own ice cubes with pomegranate seeds in the ice cubes. To make these, first put a small layar of water into a ice cubes maker. Then put some pomegranate seeds into the water. Put this for about an hour into the freezer. Then take it out and fill up the rest with water and put it back into the freezer. If you do it this way you maken sure the seeds stay in the middle of the ice cube. It's is a very nice way to garnish your pomegranate cocktails.
Share your homemade Mojito Granate on social media
Did you try this cocktail based on our recipe, and your proud of it? Take a picture of your cocktail and post it with #Cocktailicious on Facebook, Twitter or Pinterest.

Cocktails maken is leuk, maar drink met mate