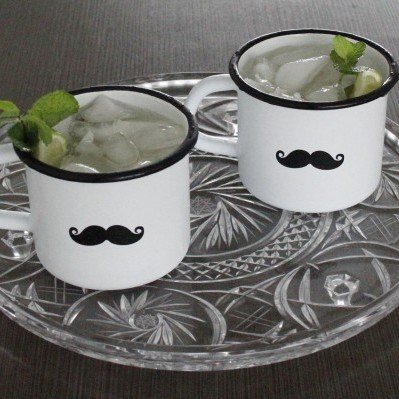 Deze Movember Mule is een sophisticated mannen cocktail die we maakten voor Movember. Je maakt de cocktail met vodka, ginger ale, limoen en munt. Bekijk het recept op onze site.
De Movember Mule is beter bekend als de Moscow Mule. Sophisticated cocktail op basis van vodka, ginger beer, limoen en munt met een lekkere frisse smaak. Voor de gelegenheid hebben we hem gemaakt in mugs die ook gebruikt worden voor de Movember event van Ketel One.
Deze cocktail is tevens de favoriete Movember cocktail van David van den Noord in zijn Tale of a Moustache.
Wat heb je nodig voor een Movember Mule?
Vodka (1 deel)
Ginger beer (1 deel)
Limoensap (halve limoen)
Munt (1 takje)
1 deel = 30 ml
Hoe maak je een Movember Mule?
Deze cocktail maak je als een mojito. Gebruik een mug of een tumbler glas met ijs. Muddle hierin 3 of 4 limoenpartjes in het glas en voeg wat muntblaadjes toe. 1 barmaatje vodka, crushed ice toevoegen en afvullen tot de rand met ginger beer en tot slot even roeren met een barlepel. Garneren met takje munt en limoen.
Andere Movember cocktails
Bekijk ook de In Cognito, de Movember Rain en de Sidecar die we maakten voor Movember. Binnenkort ook de Irish Mint Julep en de Rum Old Fashioned.
Wil je de Movember Mule ook zelf een keertje maken?
Je hebt dan een aantal benodigdheden nodig in je eigen "cocktailkeuken".
Deel je zelfgemaakte Movember Mule via social media
Heb je deze cocktail gemaakt op basis van ons recept en is het goed gelukt? Maak dan een foto van je zelfgemaakte cocktail en post deze met #Cocktailicious op Facebook, Twitter of Pinterest.


Cocktails maken is leuk, maar drink met mate