Ben je op zoek naar cocktailglazen?
Een cocktail drink je uit het juiste cocktailglas. Voor onze cocktails gebruiken wij cocktailglazen die verkrijgbaar zijn in onze shop.
Bekijk cocktailglazen in onze shop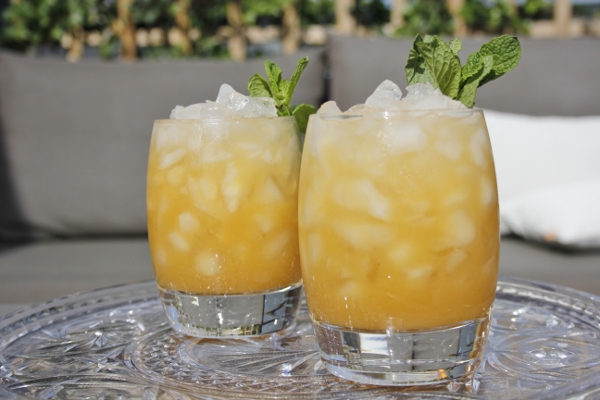 The Peach Mint Smash is a nice and fresh cocktail with peach, lime, mint and tequila. Very good to have on a summer day! If you can choose be sure to use the tequila reposado, for the full taste. You can shake this cocktail or just stir it in your glass. I prefer to shake the Peach Mint Smash.
What do you need for a Peach Mint Smash?
Tequila Reposado (1 part)
Sugar suryp (1/2 bar spoon)
Peach juice (2,5 parts)
Lime juice (juice of half a lime)
Mint
1 part = 30 ml
How do you make a Peach Mint Smash?
Use a tumbler glass for this cocktail. Fill it till the top with chrushed ice. To make the cocktail we are going to use a shaker. First add a little bit of ice. Then add the sugar suryo, fresh lime juice and the tequila. Now add the peach juice and give it a good shake. We only use the mint on glass. Take the mint and rub the glass with the mint. This will not only the smell but also the taste. Now pur out the cocktail with a strainer into the glass. Garnish your cocktail with some mint leaves (first slap them a little bit in your hands, you"ll notice that it gives it an extra nice scent). Now. Enjoy!
Share your homemade Peach Mint Smash on social media
Did you try this cocktail based on our recipe, and your proud of it? Take a picture of your cocktail and post it with #Cocktailicious on Facebook, Twitter or Pinterest.

Cocktails maken is leuk, maar drink met mate