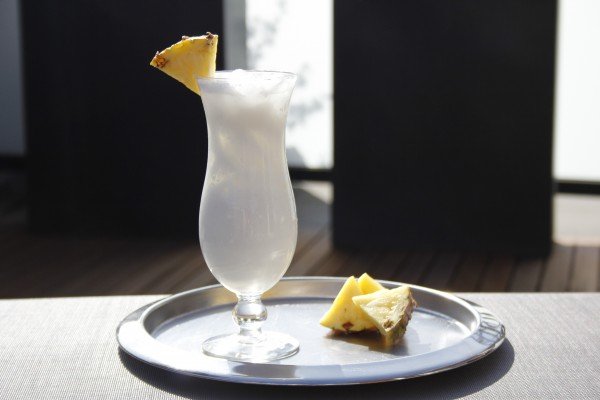 Ben je op zoek naar cocktailglazen?
Een cocktail drink je uit het juiste cocktailglas. Voor onze cocktails gebruiken wij cocktailglazen die verkrijgbaar zijn in onze shop.
Bekijk cocktailglazen in onze shop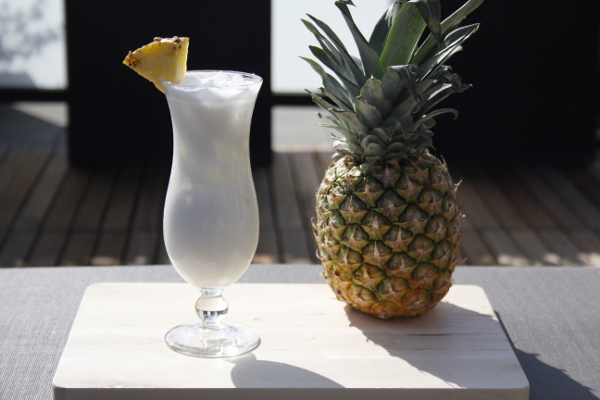 The Pina Colada is the exotic drink that gives you a tropical feeling. It literally means: sieved pineapple. The Pina Colada is the national drink of the beautiful island of Puerto Rico. If you serve this cocktail to your guests, you have to do this Puerto Rican style, with a big smile!
What do you need for a Pina Colada?
White rum or coconut rum (1 part)
Coconut milk (1 part)
Liquid cream of condensed milk (half a part / 1 bar spoon)
Pineapple juice* (1 part)
1 part = 30 ml
How do you make a Pina Colada?
This Pina Colada is made with a shaker. If you use fresh pineapple, you can also use a blender to blend the pineapple into juice.
So we use the shaker. Fill it up with ice cubes. Add the pineapple juice, coconut rum, coconut milk and liquid cream to the shaker. The last ingredient makes the Pina Colada extra creamy. Give it a good shake. Make sure you use a nice hurricane glass for this cocktail. Pour the cocktail into the glass and top it of with extra ice if necessary. Garnish the glass with a piece of fresh pineapple and perhaps a cherry on top if you are a sweet tooth. You see the white sandy beach in front of you already when you close your eyes?
Share your homemade Pina Colada on social media
Did you try this cocktail based on our recipe, and your proud of it? Take a picture of your cocktail and post it with #Cocktailicious on Facebook, Twitter or Pinterest.

Cocktails maken is leuk, maar drink met mate