Ben je op zoek naar cocktailglazen?
Een cocktail drink je uit het juiste cocktailglas. Voor onze cocktails gebruiken wij cocktailglazen die verkrijgbaar zijn in onze shop.
Bekijk cocktailglazen in onze shop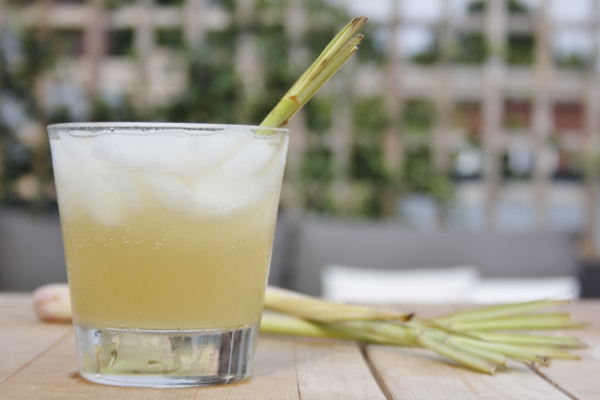 The Thai Mojito or Thaijito is a nice and herbal cocktail with the subtle hint of lemongrass. We make this variant of the Mojito with ginger ale and lemongrass. I make this one non alcoholic, but added with rum it still tastes very good! Serve it salty banana crisps.
What do you need for a Thai Mojito?
Ginger ale (3 parts)
Lemongrass (sereh*)
Cane sugar (small bar spoon)
1 part = 30 ml
* you can get lemongrass (sereh) at most shops or any toko.
How do you make a Thai Mojito?
Cut the lemongrass in small rings, like you would cut a spring onion in the kitchen. Save the upper part for garnish. Muddle this together with the cane sugar in a separate glass. Add a little splash of water to the glass and stir it a little bit. Finestrain this into your mojito glass. Fill up the glass with crushed ice and give it a small stir. top of the glass with ginger ale and put in the lemongrass for garnish.
PS: If you want to try the alcoholic version, just add 1 part of dark rum to the mix.
Share your homemade Thai Mojito on social media
Did you try this cocktail based on our recipe, and your proud of it? Take a picture of your cocktail and post it with #Cocktailicious on Facebook, Twitter or Pinterest.

Cocktails maken is leuk, maar drink met mate