Ben je op zoek naar cocktailglazen?
Een cocktail drink je uit het juiste cocktailglas. Voor onze cocktails gebruiken wij cocktailglazen die verkrijgbaar zijn in onze shop.
Bekijk cocktailglazen in onze shop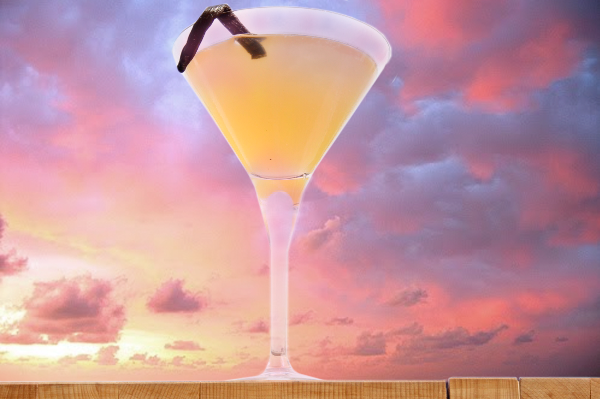 The Vanilla Sky Daiquiri is inspired by the colors of the actual Vanilla Sky. To enhance and dramatise the looks of this cocktail we've used dark ru instead of the usual white rum. That combined with smooth passionfruit juice, licor 43 and ofcourse vanilla. A beautiful cocktail if you ask me!
What do you need for a Vanilla Sky Martini?
Dark Rum (1 part)
Licor 43 (1 part)
Vanilla Monin
Passionfruit juice (2 parts)
lime (juice of half a lime)
Fresh vanilla stick
Egg white
For this cocktail we are going to use a shaker. First fill it up with ice. Now add the licor 43, passionfruit juice, vanilla monin and fresh lime juice into the shaker. Now add half of the egg white of 1 egg into the shaker. Give it a good shake for about 5 to 8 seconds. The egg white gives the cocktail a foamy look and feel. Pour out the cocktail into a martini glass. For the dramatic effect we now pour in the dark rum straight into the glass. Don't put the dark rum into the shaker. Garnish the Vanilla Sky Daiquiri with a slice of lime or the vanilla stick.
Share your homemade Vanilla Sky Daiquiri on social media
Did you try this cocktail based on our recipe, and your proud of it? Take a picture of your cocktail and post it with #Cocktailicious on Facebook, Twitter or Pinterest.

Cocktails maken is leuk, maar drink met mate