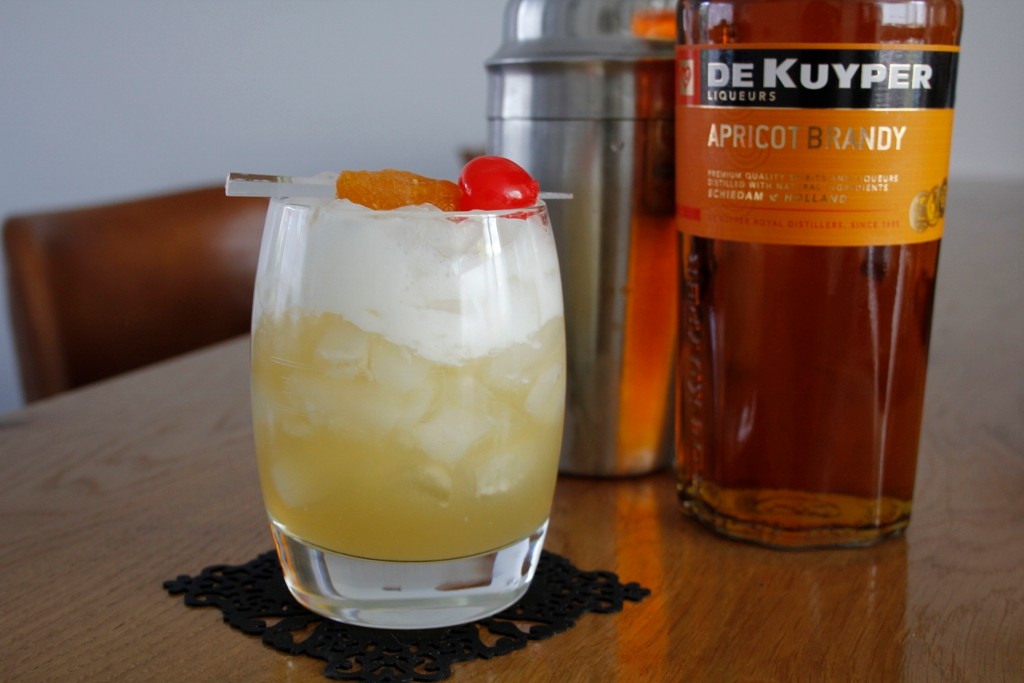 Je raadt het al! Deze Apricot Brandy Sour maak je met … Apricot Brandy. Een lekkere likeur die mij doet denken aan Disaronno en die zich dus prima leent voor een sour.
Wat heb je nodig voor de Apricot Brandy Sour?
Apricot Brandy (1,5 deel)
Geen suiker (!)
Verse citroensap (halve citroen)
Eiwit
Garnering: gedroogde abrikoos en een cocktailkersje
1 deel = 30 ml
Hoe maak je de Apricot Brandy Sour?
Gebruik een stijlvol tumbler / whiskey glas en een shaker met ijs voor het beste resultaat. Begin met het eiwit te scheiden. Dit doe je doe het eiwit op te vangen in de schaal en het eigeel in het andere schaaltje. De eerste keer is wat lastig, maar daarna word je er vanzelf beter in. Doe dit als eerste, als het mis gaat heb je je cocktail niet verpest 😉
Na het eiwit voeg je 1 deel versgeperste citroensap toe van een halve citroen. Daarbij gaat 1,5 barmaatje van de Apricot Brandy. Stevig shaken. Uitschenken inclusief de ijsblokjes in je cocktail glas. Je ziet nu een mooi schuimkraagje. Als laatste voeg je nog een topje crushed ice toe en garneer je met een gedroogde abrikoos en cocktailkers. In plaats van de gedroogde abrikoos mag je ook sinaasappelzest gebruiken.
NB:de Apricot Brandy kun je in deze cocktail ook goed combineren met whiskey.
Sour variaties
Met sour cocktails kun je makkelijk variëren. Naast de Whiskey Sour en de Amaretto Sour, kun je sours maken met je favoriete likeur. Denk aan Licor 43, Drambuie of Frangelico.
Wil je de Apricot Brandy Sour ook zelf een keertje maken?
Je hebt dan een aantal benodigdheden nodig in je eigen "cocktailkeuken".
Deel je zelfgemaakte Apricot Brandy Sour via social media
Heb je deze cocktail gemaakt op basis van ons recept en is het goed gelukt? Maak dan een foto van je zelfgemaakte cocktail en post deze met #Cocktailicious op Facebook, Twitter, Pinterest of Instagram.
Cocktails maken is leuk, maar drink met mate