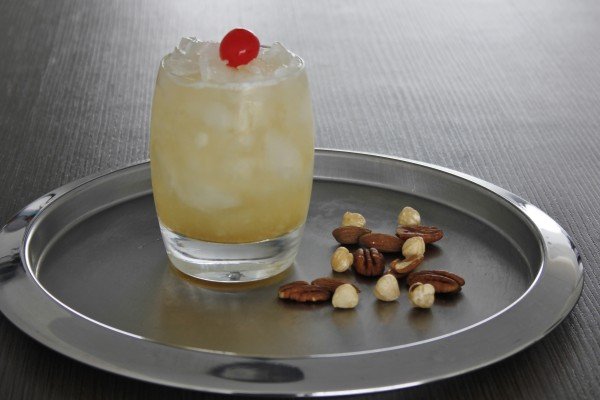 Ben je op zoek naar cocktailglazen?
Een cocktail drink je uit het juiste cocktailglas. Voor onze cocktails gebruiken wij cocktailglazen die verkrijgbaar zijn in onze shop.
Bekijk cocktailglazen in onze shop
The Frangiretto Sour is a true winter cocktail. The combination of hazel nuts and almonds gives this cocktail a very intens nut flavor. With suits perfectly with the winter times.
What do you need for a Frangiretto Sour?
Amaretto (0,5 part)
Frangelico (0,5 part)
Lemon juice (juice of half a lemon)
Sugar syrup (1 bar spoon)
Egg white
1 part = 30 ml
How do you make a Frangiretto Sour?
For this cocktail we will be using a tumbler glass and a shaker. First put some ice cubes into the shaker. Then add the amaretto, frangelico, fresh lemon juice (without the seeds), sugar syrup (just a small bar spoon) and the 1/3 egg white of one egg. Give it all a good shake for about 10 seconds. The egg white will give the Frangelico Sour a nice foam on top. Take the tumbler glass and fill it up with crushed ice. Now pour out the cocktail with a strainer into the glass. Garnish the cocktail with some almonds or hazel nuts for the nutty feeling. You can also add a cocktail cherry for garnish. That always works very well with sour cocktails.
Winter cocktails
Check out our other winter cocktails like the Hazel's Dream or the Pecan Caramel Martini.
Share your homemade Frangiretto Sour on social media
Did you try this cocktail based on our recipe, and your proud of it? Take a picture of your cocktail and post it with #Cocktailicious on Facebook, Twitter or Pinterest.

Cocktails maken is leuk, maar drink met mate