Ben je op zoek naar cocktailglazen?
Een cocktail drink je uit het juiste cocktailglas. Voor onze cocktails gebruiken wij cocktailglazen die verkrijgbaar zijn in onze shop.
Bekijk cocktailglazen in onze shop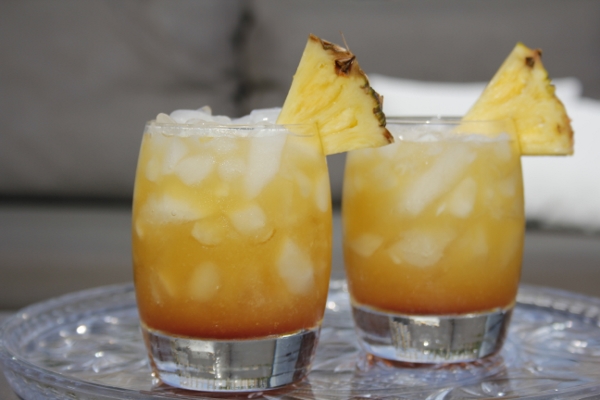 This is a tiki cocktail we came up with ourselfs. When we were in our tiki phase we really wanted to make one ourselves and thought of the Jungle Juice with rum, pineapple juice, passionfruit juice and lime juice. It's perfect for a hot summer night!
What do you need for a Jungle Juice?
Dark rum (1,5 part)
Pineapple juice (1 part)
Passionfruit juice (1 part)
Lime (juice of half a lime)
Syrup (2 drops)
Garnish: pineapple of passionfruit
1 part = 30 ml
How do you make a Jungle Juice?
For this cocktail we are going to use a shaker and a tumbler glass filled with crushed ice. Take the shaker with ice cubes and pour in the rum, pineapple juice, passionfruit juice and fresh juice of half a lemon. Give it a good shake for about 5 to 8 seconds. Pour out the cocktail into the glass with a strainer and fill it up till te top of the glass. Now add the 2 drops of grenadine syrup. This gives the cocktail a special look and feel. Garnish the cocktail with a piece of pineapple of fresh passion fruit.
Tip: This cocktail is also perfect to make in a big punch if you have a lot of friends coming over or a bbq in the summer.
Tiki cocktails
Do you also like tiki cocktails. Check out al our other tiki recipes:
Share your homemade Jungle Juice on social media
Did you try this cocktail based on our recipe, and your proud of it? Take a picture of your cocktail and post it with #Cocktailicious on Facebook, Twitter or Pinterest.

Cocktails maken is leuk, maar drink met mate