Ben je op zoek naar cocktailglazen?
Een cocktail drink je uit het juiste cocktailglas. Voor onze cocktails gebruiken wij cocktailglazen die verkrijgbaar zijn in onze shop.
Bekijk cocktailglazen in onze shop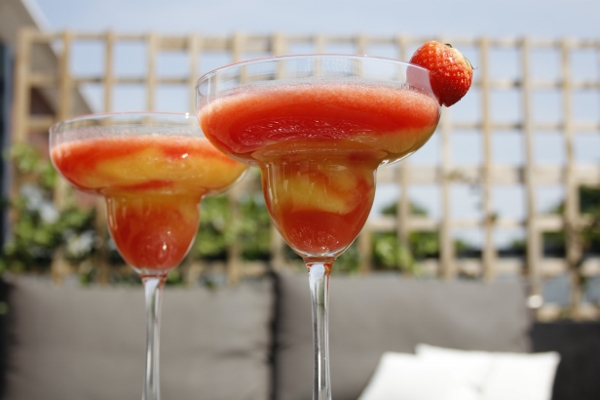 A Daiquiri with two flavors is not so weird. If you go buy yourself an italian homemade ice cream, you also choose at least two flavors, right? This Daiquiri with fresh mango and strawberry is also a very good combination. You have to make it with the blender to keep all flavors fresh and delicious. A good tip for the summer!
What do you need for a Mango Strawberry Daiquiri?
White rum (1 part)
Sugar syruo (1 el)
Lime juice (juice of half a lime)
Strawberries (3 pieces)
Mango (about half a mango)
Crushed ice (1 glass filled)
1 part = 30 ml
How do you make a Mango Strawberry Daiquiri?
You actually nake two different daiquiri's. First you start with the mango daiquiri en then you make the strawberry daiquiri.
Mango Daiquiri:
For both daiquiri's we need to use the blender. Put half a mango into the blender and add the juice of a quarter lime to the mix. Then add half a jigger with white rum. For this one we don't need to add sugar syrop because the mango is already very sweet. Give it a little blend. Pour out the daiquiri filling half of your glass.
Strawberry Daiquiri:
Now the second part. Put 3 strawberries into the blender. For this one use the other half of the lime to squeeze out the juice. Add the other half of the jigger with white rum also into the blender. Add a bar spoon of sugar syrup to the blender. Now add half a glass of crushed ice. Give it a good blend and make sure it's all mixed up smoothly.
Now add the strawberry mix to the mango mix and give it a good stir. Let all flavor blend nice, and let the colours mix.
Barnish:
You can garnish this daiquiri either with a beautiful strawberry or a nice piece of mango.
Share your homemade Mango Strawberry Daiquiri on social media
Did you try this cocktail based on our recipe, and your proud of it? Take a picture of your cocktail and post it with #Cocktailicious on Facebook, Twitter or Pinterest.

Cocktails maken is leuk, maar drink met mate