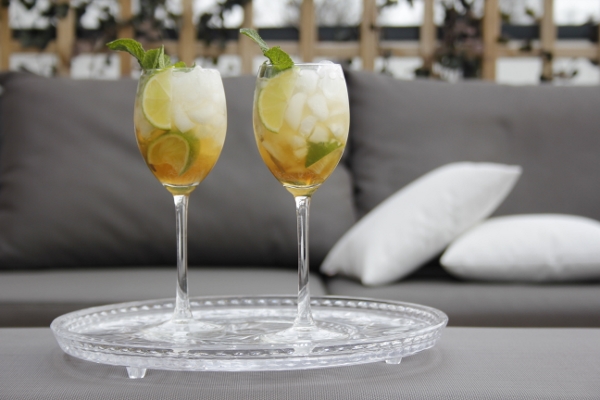 Ben je op zoek naar cocktailglazen?
Een cocktail drink je uit het juiste cocktailglas. Voor onze cocktails gebruiken wij cocktailglazen die verkrijgbaar zijn in onze shop.
Bekijk cocktailglazen in onze shop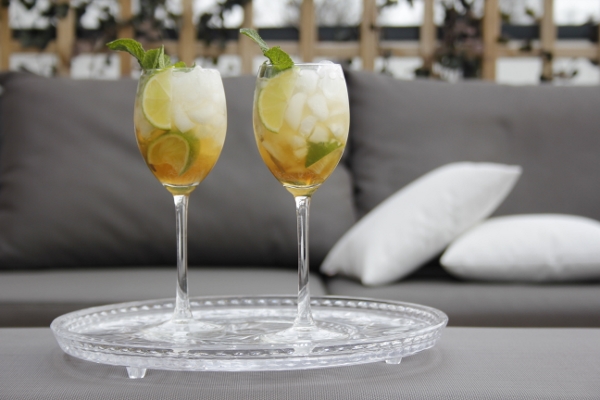 We've already tried a lot of different variations on the classic Mojito recipe. This is I think the most unexpected variant on the mojito. This time we use Amaretto as our not so secret ingredient. I've tried to make it with lime and oranges, the version with lime was definitely the best. Because we don't use a traditional mojito glass for this cocktail it gets a more elegant look and feel, that suits the Amaretto perfectly. Very nice to try in spring.
What do you need for a Amaretto Mojito?
Amaretto (1 part)
Sparkling water (1,5 part)
Lime (1 piece)
Mint
Crushed ice
1 part = 30 ml
How do you make a Amaretto Mojito?
For this cocktail we are going to use a wine glass. Because a wine glass is not so strong usually we are not going to muddle the limes this time. We will be making the cocktail straight into the glass. Squeeze the lime into the glass and put the squeezed lime parts also into the glass. Now add the amaretto and mint leaves. Fill up the glass with crushed ice and top it of with sparkling water. Add some mint leaves for garnish in this cocktail and it's ready to serve.
Share your homemade Mojito Amaretto on social media
Did you try this cocktail based on our recipe, and your proud of it? Take a picture of your cocktail and post it with #Cocktailicious on Facebook, Twitter or Pinterest.

Cocktails maken is leuk, maar drink met mate