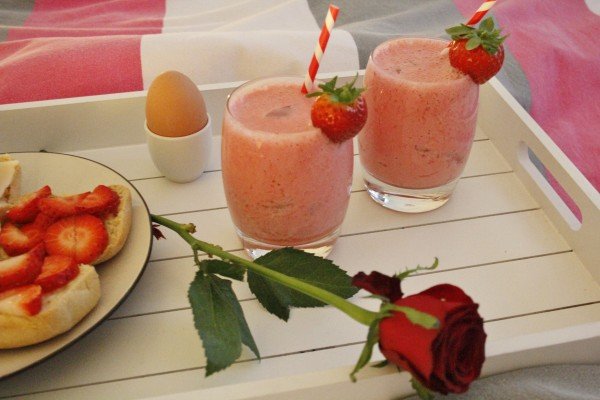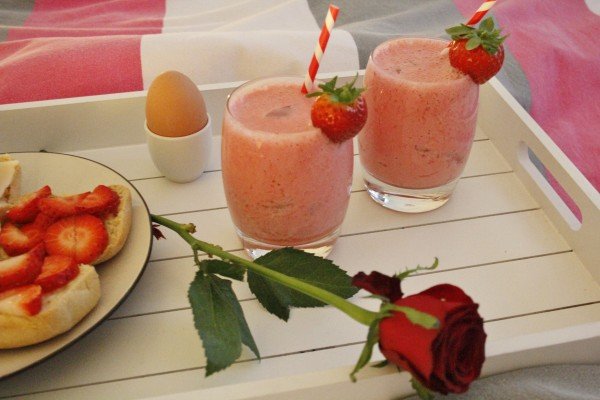 Wat is er lekkerder dan verrast te worden op Valentijnsdag met een ontbijtje op bed. Als je toch aardbeien hebt gehaald voor een croissantje of een beschuitje, dan maakt deze Strawberry Kiss Smoothie je Valentijnsontbijtje helemaal af!
NB: de naam "Strawberry Kiss" is gebaseerd op de "lippenstift kus" die de aardbei achter laat op het glas als je de aardbei eraf haalt.
Wat heb je nodig voor de Strawberry Kiss Smoothie
Aardbeien (6 stuks)
Yoghurt (2,5 delen)
Limoen (squeeze)
Crushed ice
1 deel = 30 ml
Hoe maak je de Strawberry Kiss Smoothie?
Deze smoothie maak je met verse aardbeien, yoghurt en wat limoen. Je gebruikt een blender. Snijd de aardbeitje in kleine stukjes, voeg yoghurt toe (2,5 barmaatjes per glas) en squeeze een partje limoen hierover uit. Om aan te zoeten kun je eventueel wat suikerwater nog toevoegen naar smaak. Voor je gaat blenden voeg je nog wat crushed ice toe. Na een minuutje goed blenden giet je je smoothie uit in een mooi glas gevuld met ijs. Garneren met aardbeitjes aan het glas.
Tip: de hippe rood-wit gestreepte rietjes in het glas maken deze cocktail helemaal af. Verkrijgbaar bij Things for Drinks
Nog meer romantische Valentijnscocktails
Meer romantische cocktails voor Valentijnsdag vind je in onze Valentijnscocktails blog
Share your cocktail with your Valentine
Deel je cocktail met jouw Valentijn via social media met #CocktailiciouslyYours

Deze cocktail is 100% alcoholvrij
Ben je op zoek naar cocktailglazen?
Een cocktail drink je uit het juiste cocktailglas. Voor onze cocktails gebruiken wij cocktailglazen die verkrijgbaar zijn in onze shop.
Bekijk cocktailglazen in onze shop